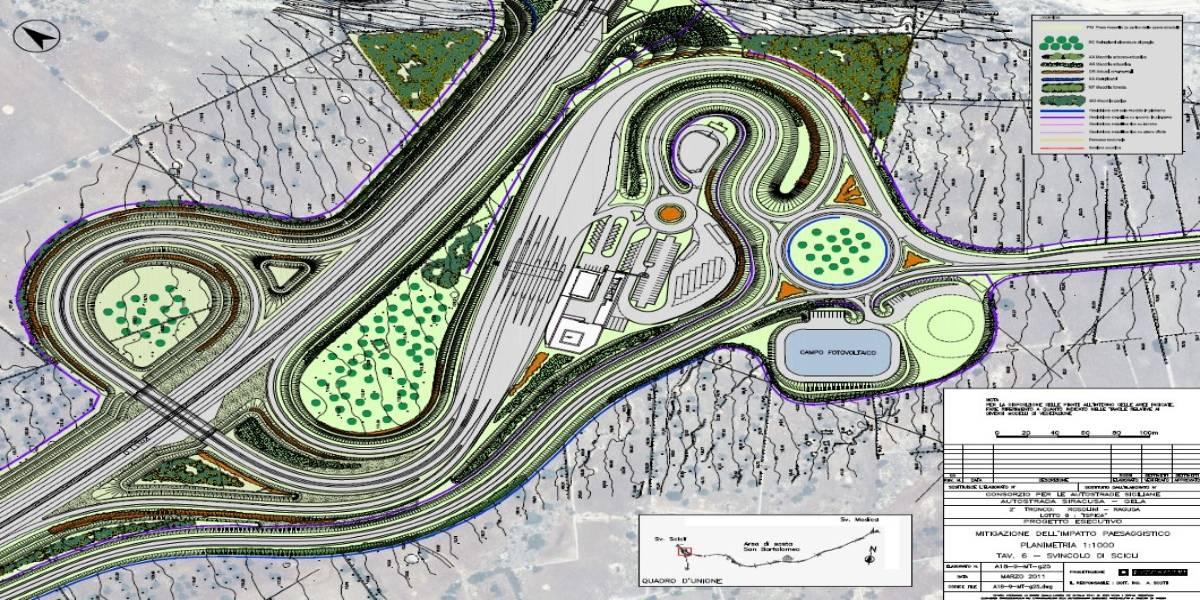 Environment Landscape and ecology
Landscape works along the Syracuse – Gela Motorway (Italy)
The Syracuse - Gela motorway (133 km) is an important link in the national and regional road network, promoting the economic development of eastern Sicily (tourism, agriculture and the mining industry) as well as offering a rapid outlet for the industrial centres of Syracuse, Ragusa and Gela. All together the motorway will have 15 viaducts for a total length of 6,600 m, as well as 44 overpasses and numerous minor bridges. The motorway alignment also includes 17 double-barrel tunnels for a total length of 16,700 m.
The landscape design activity included the analysis of the plant community of the affected areas through site inspections. This allowed the development of typological models of vegetation well adapted to the ecological characteristics of the area.
The design of the motorway requires the crossing of primarily agricultural areas with high historical and landscape value and areas with a good degree of naturalness. In particular, the road corridor crosses several rivers with high environmental value (ecological corridors). For these reasons, the landscape works had been developed as mitigation measures as required by the EIA study, in order to promote the integration of the road with the local natural and traditional landscape. So, the landscape works were finalized to the re-establishment of ecological corridors and the local landscape. The design of the landscape works was based on ecological criteria as for national and international guidelines related to the design of linear infrastructure (e.g. highways).
The mitigation works used native species, local architectural elements (dry stone walls) and the transplant of valuable centuries-old trees (Ceratonia siliqua, Olea europaea). The project includes also the design of recreational areas characterized by decorative plants. The main plant associations of the area are: garrigue, maquis and evergreen forest (Pistacio - Ouercetum ilicis).
The landscape works used xerophile species able to survive on the dry condition of the Sicilian climate.
The landscape works have been designed and/or constructed for the following lots:
designed and completed: 30,5 km (lots 3-4-5);
designed and completed: 20 km (lots 6-7-8);
designed: 11 km (lot 9);
designed: 13 km (lots 10-11).
In addition, in a road lot where the groundwater was at particular risk of contamination due to the ground permeability, a specific Environmental Monitoring Plan was developed.
show more info
show less info
Client
Sicilian Motorways Consortium
Services
Detailed Design, Assistance during Construction
Cost of works
Euro 1,700,000