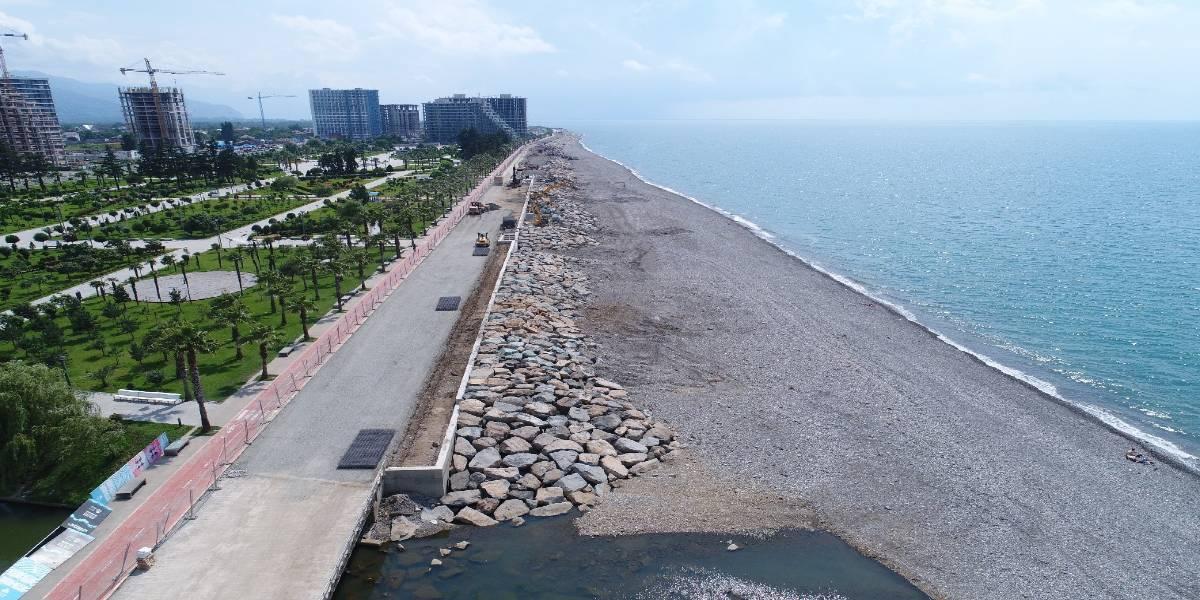 Marine and coastal Coastal Engineering
Engineering, procurement, construction management and supervision of Batumi coastal protection (Georgia)
Batumi is the capital of the Autonomous Republic of Adjara (Georgia) and one of the major cities on the Georgian Black Sea coast. For centuries, the Chorokhi River (just south of Batumi) transported sediment (both sand and pebbles) towards the coast. Due to this, a delta was created. The City of Batumi is situated on the delta of the Chorokhi River. For decades now, part of the coast where Batumi is located is eroding. The erosion is caused by: uncontrolled cementification, sediment mining from the Chorokhi River mouth, construction of power dams along the Chorokhi River and underwater landslides in submarine canyons close to the coastline.
An adequate solution accounting for these very complex physical and land-use settings was needed to solve the erosion problems of the coast.
Technital was appointed by Municipal Fund Development of Batumi to carry out the design of Batumi coastal protection system and execute services for construction supervision during implementation of the project. The project was financed by the Asian Development Bank. According to the Terms of Reference of the project, the stretch of coast to be protected, composed of sand and gravel, extended for about 7.5 km.
The design process was articulated in the following phases:
Review of the existing design
Definition of the baseline situation, including:

metocean and coastal conditions (winds, waves, water levels, currents, sediment transport patterns, coastal evolution trends), supported by modelling studies;
geological, geotechnical and seismic features of the project area. In particular, the canyon stability conditions were analysed, supported by modelling analysis.

Development of design alternatives and cost benefit analysis of the selected alternative: during this stage, a number of alternative design options were studied and tested by means of numerical models, including also the original groynes solutions at the base of the Contract. The solution deemed the most appropriate was the recirculation of sediment from the areas in accretion to the areas undergoing erosion. A suitable dredging system was studied, capable of working in very shallow areas. This sediment recirculation was complemented with a revetment along the stretch under erosion and beach enlargement along the same section.
Sizing of the marine structures and execution of structural and hydraulic calculations of the same
Development of the dredging system
Preparation of Technical Specifications, BoQ and Cost Estimate
Preparation of the Initial Environmental Examination
Preparation of Tender documents
During the execution of the project, the design already completed had to be reviewed due to damages generated by violent sea storm.
New stability and hydraulic calculations, BoQ and all documents were prepared for the new revetment that was built in stones of 3-7t category (instead of 1-3t as previously envisaged).
show more info
show less info
Client
Municipal Development Fund of Georgia
Services
Detailed design, Tender documents, Works Supervision
Cost of works
Euro 17,718,550