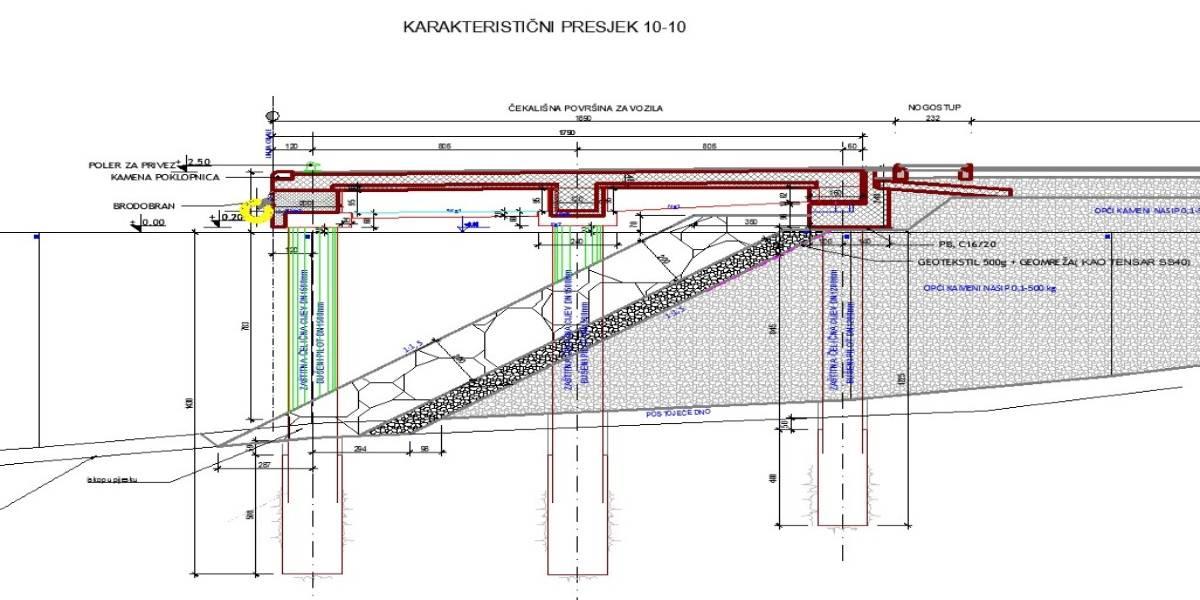 Ports and Waterways Industrial and commercial ports
Ro-Ro terminal of Sjeverna Luka within the port of Split (Croatia)
This project aims at reconstruction and extension of Northern port in the port area of the Vranjic-Solin basin, under the management of Split Port Authority. The Northern port (Stinice area) is situated in the Vranjic-Solin Basin of the Port of Split, on the territory of the City of Split in the Split-Dalmatia County.
The area of Stinice which is the subject of this project, has been a neglected port space unused for decades, devoid of purpose and devastated.
The conceptual solution envisages the construction of the port infrastructure, i.e. upgrade of 1 existing berth and the construction of 6 new berths for the reception of ro-ro ships, for the purpose of transferring domestic and international freight traffic from the Split City Port to the Northern port of Stinice. The infrastructure should also be able to accept one large cruise ship, and since the North Port is protected and not subjected to weather conditions as external berths in the City Port are, berthing would be possible during most of the year and also under unfavorable weather conditions.
Total length of the planned coastline is approx. 905 m. Max permissible draft allowed for ships in the future port is 10,7 m. Other designed structures and facilities of the port are the access road to the port, traffic plateau with internal roads, parking areas, vehicle waiting lanes, pedestrian routes, green belts, ticket booths and sanitary facilities, power station.
The type of maritime structure and its foundation will depend on the sea bottom topography, geotechnical conditions in the area of the project and its spatial limitations. For the envisaged draft allowed, and taking into account other conditions, foreseen foundation solution is on RC drilled piles.
The project also covers the development of the water supply and sewage design, electrical installations, lighting and telecommunications designs.
show more info
show less info
Client
Split Port Authority
Services
Preliminary Design, Detailed Design
Cost of works
Euro 32,000,000 approx