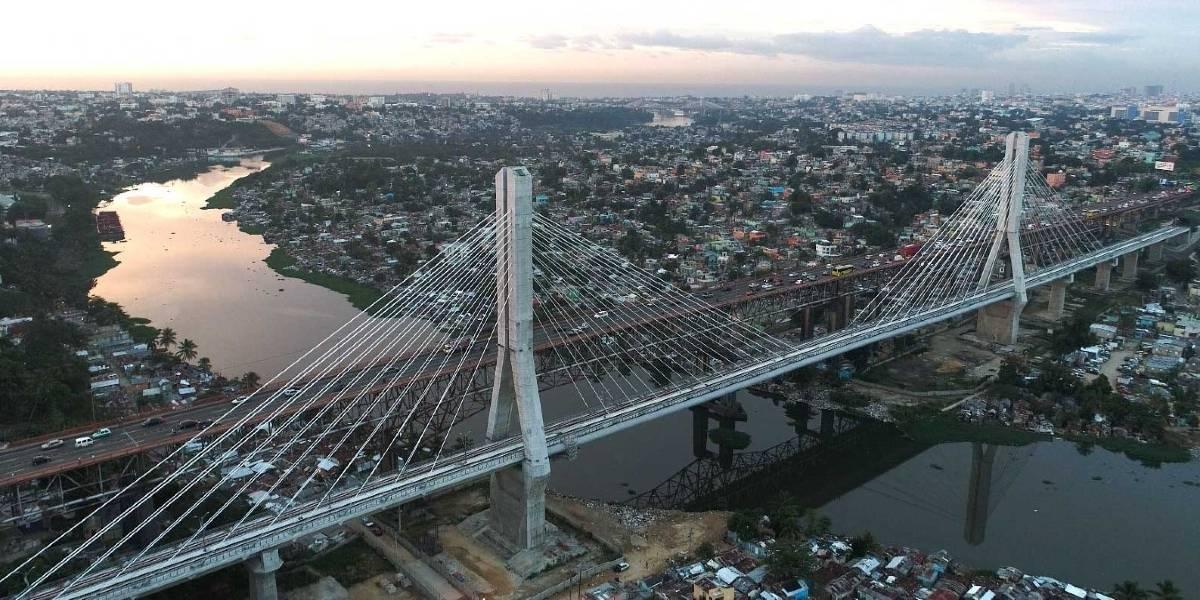 Railways and urban transport Urban transport
Light Rail 2B of Santo Domingo – Cable stayed bridge over Rio Ozama (Dominican Republic)
The Santo Domingo Metro is a light rail system in Santo Domingo, the capital of the Dominican Republic. It is the most extensive metro system in the insular Caribbean and Central American region by length and number of stations.
Line 2 runs from western to the eastern part of the city and its extension 2b will include a cable stayed bridge over Rio Ozama, parallel to the existing road bridge Francisco del Rosario Sanchez.
The bridge has a deck about 520 m long, subdivided in 5 spans: the central one (between the pylons) is 270 m long, while the 2 adjacent ones on each side are 65 m and 60 m respectively.
The deck is made of a cellular box of concrete 3.05 m high and 11.9 m wide.
The cable arrangement refers to a semi-fan system with two inclined cable planes
The bridge has to serve a metro line in a region interested by high risks of earthquakes and hurricanes and therefore the following analysis are required:
Static and seismic analysis to be developed in the elastic range with a three-dimensional model representative of the existing project.
Rail-structure interaction analysis to be carried out by a non-linear model, in accordance with UIC Codes 776-2, 776-4 and 774-3.
Preliminary runnability analysis (using axle forces moving along the deck) to evaluate the dynamic performances of this bridge under moving train effects.
"Robustness" analysis of the structure when exposed to accidental events, due to train derailment, sabotage or extreme natural events, which cause the failure of one or more stays..
Tests in the wind tunnel and related analysis for:

Study of a sectional model for the identification of polar and static aeroelastic derivatives and the response of the deck to the vortex shedding.
Analysis of bridge serviceability related to the risk of overturning of the vehicles running under cross wind.
Study of proper measures able to increase the serviceability of the bridge, for instance by adding wind barriers.
show more info
show less info
Client
Yellow Ingenieros & Arquitectos
Location
Dominican republic
Services
Independent check, specialistic analysis
Cost of works
Euro 50,000,000