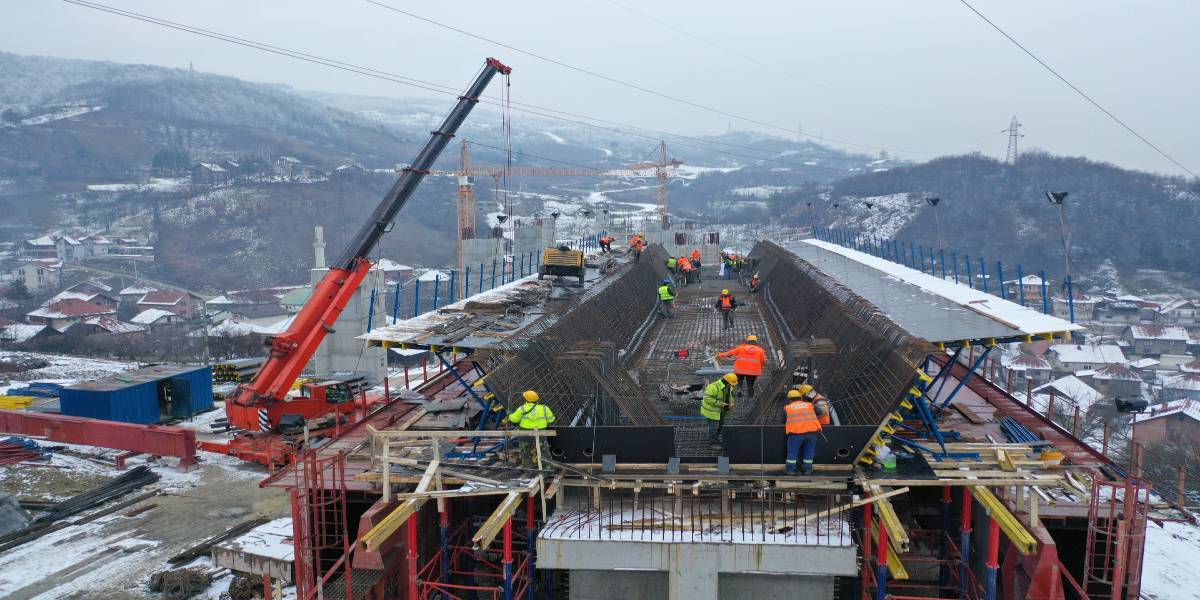 Roads and Motorways Motorways
Consulting services for supervision of works on the construction of Motorway on Corridor Vc, Section 2 Donja Gracanica – Zenica Tunnel (Bosnia)
The whole Corridor Vc motorway runs through Bosnia and Herzegovina in the length of approximately 335 km and is divided into four lots. On Lot 2 of Corridor Vc, at the section between Doboj and Zenica lies this subsection: tunnel Zenica - Zenica north interchange – Donja Gracanica (tunnel Pecuj) with a length of 3.85 km. The section starts with the exit from the tunnel Zenica and ends at the entrance to the tunnel Pecuj and it consists of two subsections.
In the whole section are present two double barrel tunnels (~5m radius), two double carriageways viaducts and one bridge over the Bosna river.
The design speed is 120 km/h, down to100 km/h in tunnels.
Driving and overtaking lane are 2x3.75m, with an emergency lane width of 2.5m.
Marginal strip is 0.5 m, and on the side of emergency lane 0.25 m and enters the width of the emergency lane. The width of the shoulders is 1.5 m. Central reserve is a minimum of 4 m wide.
The works comprise the construction of all roads/bridges/tunnels/infrastructure works including the following:
Local road re-alignments, closures, rehabilitations
Earthworks, Cut and Embankments
Bridgeworks
Retaining walls
Tunneling and slopes protection
Road Pavements
Drainage, Culverts, Water protection works
Toll Stations and associated pavements, buildings
Utilities (relocation and new works), Lighting
Steel/Concrete Safety Barriers
Road Marking and Signing
Geotechnical works (investigation, piling works, etc.)
Environmental works and Fencing
Electrical and Mechanical Works
In particular, the works comprise:
3.85 km of roads (of which ~500+440 m in tunnel, ~130+100 m in viaduct and 136m of bridge);
100.000 m2 of road pavement.
An interchange with roundabout (~ 80 m diameter);
About 1,2 km of connecting roads with the toll station and existing viability;
120.000 m³ of excavations;
The services provided by TECHNITAL included:
General supervision, including review of preliminary and main design and the proposal of any necessary alterations
BIM modelling verification
Site supervision, including traffic maintenance plans, reviewing and assessing the Contractor's work, preparing all necessary reports, cost estimates, variation orders, certificates, etc.
Quality Assurance, including monitoring of laboratory activities, checking the Contractors' materials and equipment, etc.
Post-Contract Quantity Surveying including monthly checks on works completed, monthly schedules and evaluations, records of materials deliveries, plant and manpower, etc.
Project Management, including dealing with claims and outstanding works during the construction contract maintenance period.
The consultant undertakes the assignment with a team of about 35 professionals for a contract period of 30 months (+ 24 months DNP), finally supported by other specialists from the main office.
The Contract is administered in accordance to the FIDIC Rules (Yellow Book), first of application in the Federation of Bosnia and Herzegovina.
The Consultant's Resident Engineer has assumed the role of "Team Leader – Supervision Coordinator", the Roads Department of the Ministry being the "Engineer".
show more info
show less info
Client
PC Motorways of the Federation of Bosnia and Herzegovina Ltd
Location
Donja Gracanica – Zenica, Bosnia
Services
Works Supervision
Cost of works
Euro 67,000,000