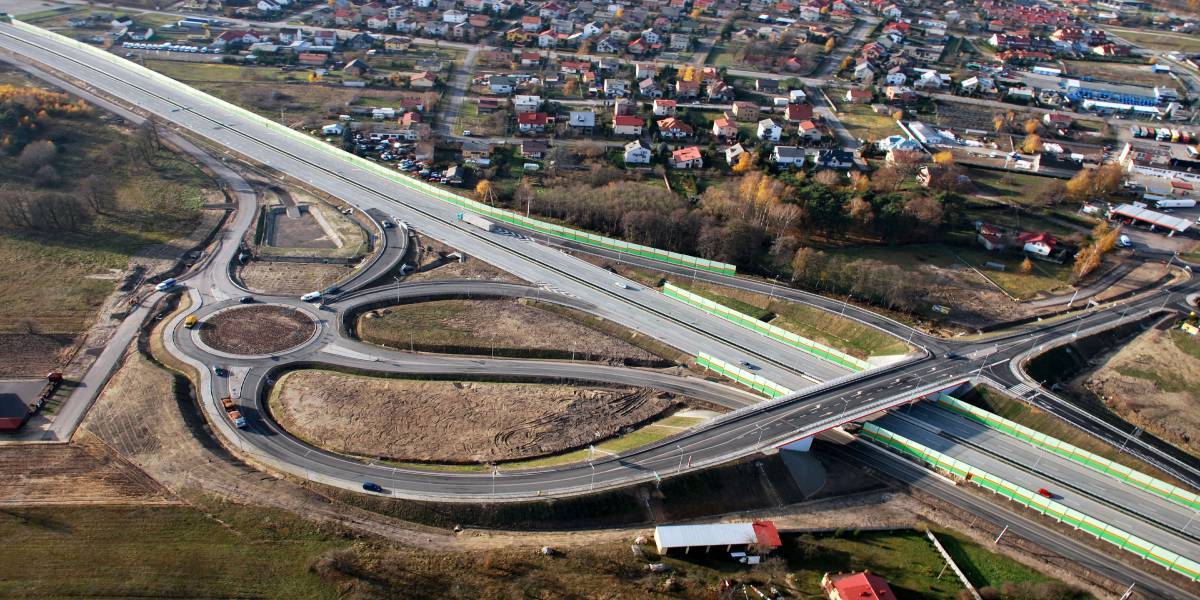 Roads and Motorways Motorways
Design and widening of National Road N° 8 to the parameters of an express road on section Piotroków Trybunalski – Rawa Mazowiecka (Poland)
The contract is part of the Design & Build project (according to FIDIC Yellow Book) for an express road section of 61.2 km to be realized in 3 lots:
Lot 1: Km 324+772.00 - Km 346+803.80
Lot 2: Km 346+803.80 - Km 356+700.00
Lot 3: Km 356+700.00 - Km 386+000.00.
The section of National Road no.8 in question is located in the province of Łódź. The road alignment passes through the built-up areas of Raków, Rakowiec, Meszcze, Polichno, Wolbórz, Tomaszów Mazowiecki, Lubochnia, Olszowiec, Emilianów, Czerniewice, Wólka Jagielczyńska, Zubki Duże, Podkolnice, Podlas, Rawa Mazowiecka, for which bypasses are envisaged.
The existing road has a double carriageway section, with two lanes in each direction, divided by a median strip and flanked on the outside by a hard shoulder. All except two of the present interchanges are single level crossings. The present road has a road formation width of ≈ 2x9.50m, a median strip of ≈ 4.0m, and hard shoulders of 1.5 m - 2.0 m.
The design road section starts at the boundary of the County of Rawa Mazowiecka, from km 324+772 to km 379+110 and ends at Rawa I Interchange, at the crossing with the axis of provincial road No. 725, at km 386+000 of National Road No.8.
For most of the route the new express road will follow the existing alignment. The stretch between Km 361+200 and Km 365+300 will be completely re-designed (new variant alignment).
The design section of National Road no. 8 includes two railway crossings: at Km 328+200 over the Warsaw–Katowice line, and at Km 354+725, over the Koluszki – Radom line.
The widely varied open terrain crossed by road alignment includes fields, meadows and large tracts of forest. The alignment also crosses several streams and rivers, as well as a number natural and archeological reserves.
Since the bearing capacity of the existing road structures is grossly inadequate for safe and efficient operation, the design envisages their total demolition and replacement with new ones. These include 27 viaducts, 16 bridges, 5 underpasses, 4 animal crossings, 6 pedestrian subways and 1 overpass. The new structures will have decks of r.c. or p.r.c. beams, slabs cast In-situ and pre-cast bearings. The design also includes 14 interchanges, and the review of the existing utilities location and drainage works.
The contract includes the design and construction of concrete paving along the entire express road section, except for the stretch between Km 334+600 and km 346+750 which requires only the rehabilitation of the existing paving (cracks, potholes, mechanical faults, expansion joints, etc.). The paving will be made with Class C35/45 (B45) cement with 0/16 mm grain size.
show more info
show less info
Client
General Directorate of National Roads and Motorways – Lódź department
Location
Piotroków Trybunalski, Rawa Mazowiecka, Poland
Services
Construction Design, Technical Assistance during Construction
Cost of works
Euro 345,350,090