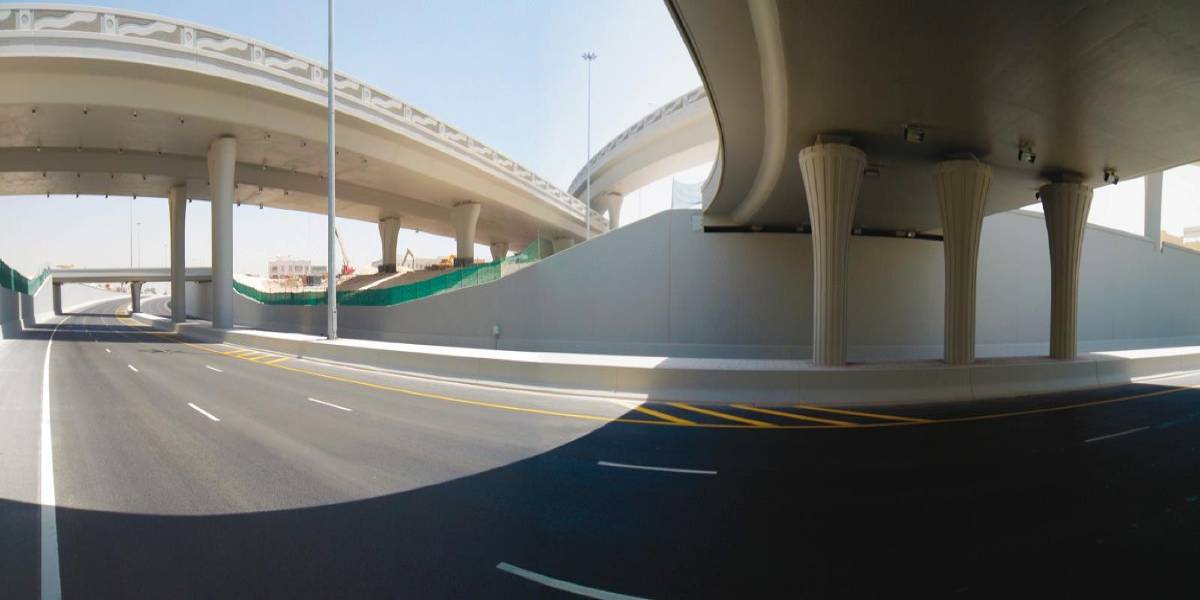 Roads and Motorways Urban roads
Supervision of construction of Industrial Interchange (Qatar)
The project works are located in Doha city and consist in the upgrading to a 4-level interchange of the existing Salwa Road/East Industrial Road/Al Furousiya Street Junction, otherwise known as the "Industrial Roundabout".
The works comprise the construction of all roads/ bridges / underpass/ infrastructure works including the following:
Site clearance
Fencing and Safety barriers
Surface drainage
approx. 400,000 m³ of earthworks
Granular sub base
300,000 m² of asphalt paving
Kerbing works, footpaths, and paved areas
Traffic signs and road markings
Sewerage
Storm water pump station
Public utility services: provision for future services, diversions and protection of existing services (including full networks for water works, electricity works, street lighting, and public telephone works
Landscaping and irrigation/hardscape
Bridges and underpass structure
Intelligent transportation system.
In particular, the works comprised
24 km of roads (12 km of 3- lane carriageways, 4 km of 2-lane carriageways and 8 km of single lane carriageways);
60.000 m³ of concrete structures, including 4 post compressed bridges:

Salwa Bridge: 2 span bridge over 7 resting points (total length 248 m);
Viaduct for dedicated left turn (from Salwa Road to East Industrial Road): single span bridge over 12 supports (total length 630 m);
2 single spans over 3 supports (total length 52 m).

an underpass excavated to a depth of -11 m, with a cross section of 25.5 m to accommodate the 2 carriageways and retaining walls of reinforced concrete.
The contract also included:
the procurement and construction of 8.5 km micro-tunnel with an internal diameter of 2.4 m made using TBM (Tunnel Boring Machine);
laying of over 9000 m of pipes of different diameters along the various utility corridors;
the procurement and installation of street lighting system, and of 4 high detection systems and CCTV system for surveillance and monitoring purposes;
the procurement and installation of single unit New Jersey type Safety Barriers (each unit 6 m long, pre-cast and laid on foundation);
construction of sidewalks paved with p.c. blocks (minimum width 2.5 m).
The services provided by TECHNITAL included:
General supervision, including design checks and the proposal of any necessary alterations to the design
Site supervision, including traffic maintenance plans, reviewing and assessing the Contractor's work, preparing all necessary reports, records, cost estimates, variation orders, certificates, etc.
Quality Assurance, including monitoring of laboratory test activities, checking the Contractors' materials and equipment, etc.
Post-Contract Quantity Surveying including monthly checks on works completed, monthly schedules and evaluations, records of materials deliveries, plant and manpower, etc.
Project Management, including dealing with claims and outstanding works during the construction contract maintenance period.
The Contract was administered in accordance to the FIDIC Rules (Red Book). The Consultant's Resident Engineer has assumed the role of "Engineer's Representative, the "Engineer" role being kept by the Director of Roads Department of the Ministry.
show more info
show less info
Client
Ministry of Municipal Affairs & Agriculture - Roads Affairs Department
Services
Works Supervision
Cost of works
Euro 150,000,000